Description
It is equipped with 2 1000 Watt motors and a high-performance lithium battery, which is clearly reflected not only in its power but also in its range.
The engine design was inspired by jet engines to reflect their performance.
Yes, there are indeed more extreme machines on the market, but none of them are safer and more stylish than OXO.
This scooter is perfect for both terrain and steep inclines, as the front rear wheels are driven independently. Even if you don't take full advantage of its power every time, OXO will still give you a wonderful driving experience.
With a weight of 33 kg, 10 x 2.5-inch tires and a wide standing surface, the OXO is an extremely stable and safe electric scooter that copes with the slopes of the Buda hills without any problems.
The patented suspension is adjustable in strength, allowing unmatched stability at higher speeds and rough terrain to suit your needs.
Despite its size, it can be folded quickly and easily.
There are a lot of robust scooters in this category, but the OXO is sleek, sporty and hot. A real beast! OXO is available in black and orange only. Aggressive but also luxurious.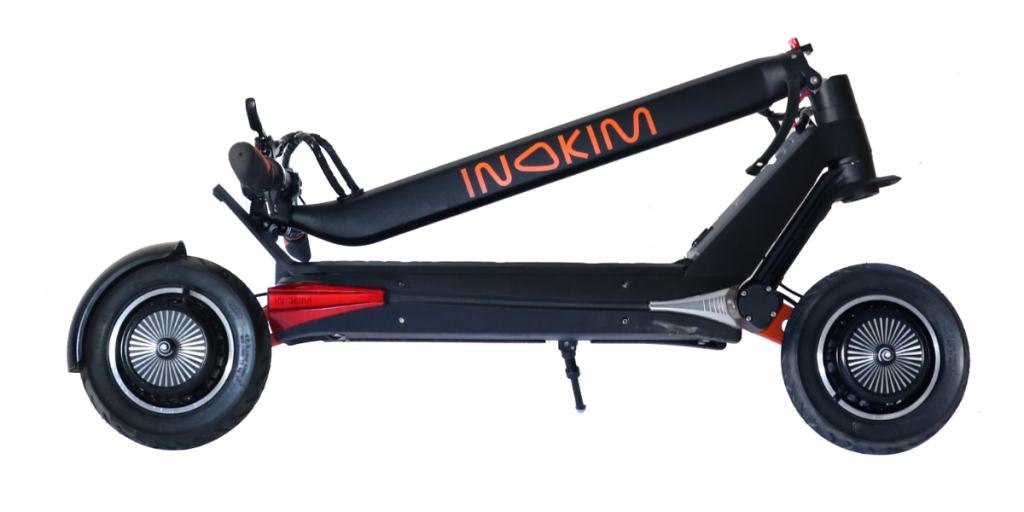 INOKIM is known for its excellent quality, and OXO further enhances the quality and performance of the INOKIM brand.
Security is a priority for INOKIM. That is why OXO is made from an extremely strong aluminum alloy used in the manufacture of aircraft.
Front and rear hydraulic disc brakes allow for a safe stop.
The distance was measured on flat terrain in first gear under a 75 kg person.